Brands Hatch Indy
Circuit Layout
Circuit Details
Location
Fawkham, Kent[1]
Length
1.22mi (1.92km)[2]
Corners
10[2]
Lap Record
48.498s (Matt Neal 2011)[2]
First Race
1958[2]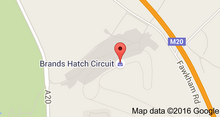 Brands Hatch Indy is a circuit in the BTCC, most commonly used as the first meeting of the season.[1] The circuit (which also has a longer Grand Prix format) hosted the first meeting of the BTCC in 1958.[2]
The 2014 visit to Brands Hatch Indy was the first of the season, and saw Andrew Jordan (reigning champion) take his first two wins of the season.[3] Colin Turkington also took a victory, claiming race three after the reverse grid rule put him in third for the start of race three.[3] Rob Austin took control of the Jack Sears Trophy, having improved on his grid position more than any other driver.[3]
Brands Hatch Indy has been in use for the entire history of the BTCC, hosting the first ever race of the BTCC in 1958 (which was won by Jack Sears).[2] The circuit itself originated from a grass circuit, on the site of Brands Hatch Farm in the 1920s, when a group of motorcyclists obtained permission to use the bowl shaped valley to use as a race circuit.[4] The 'Indy' layout was the first to be laid out in tarmac in the 1950 by a new firm, Brands Hatch Stadium Ltd., and hosted its first race on the 16th of April 1950.[4]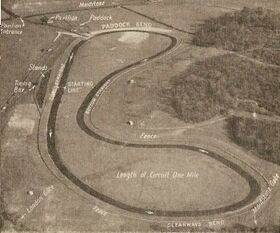 The circuit, having gained an impressive following as a popular motorsport venue in the 50s, was extended, although the BTCC continued to use the older, 'Indy' layout for meetings.[2] From 1964, Brands Hatch's GP layout was used to host formula one races, meaning that until 1986, the BTCC would time its season to coincide with the British Grand Prix (either at Brands Hatch or Silverstone).[1] With the BTCC making two or more visits to the Kent circuit each season, the Indy and GP layouts came into use at different meetings in each season, drawing some of the BTCC's biggest crowds thanks to the natural ampitheatre that the circuit sat in.[4]
The circuit continues to be used to this day, in more recent seasons as the season opener for the BTCC.[2] The GP circuit (no longer used in Formula One) is often used as the season's final meeting, although both Brands Hatch events continue to be used each season at different times.[2]
The lap record for Brands Hatch's Indy layout is currently held by Matt Neal, when he set a time of 48.498s in 2011.[2]
Images
References
Community content is available under
CC-BY-SA
unless otherwise noted.