Matt Neal, born on the 20th of December 1966, is a three time BTCC champion set to compete in the 2014 Season. Neal is perhaps the most experienced driver on the 2014 BTCC grid, and enters the season with his family run outfit Team Dynamics.[1]
Current Season
Edit
Neal is to compete in the 2014 BTCC Season sporting the number 4.[1] For the fifth consecutive season, Neal will be competing for his father's run team, Team Dynamics.[2] Alongside him for this season will be long time team mate Gordon Shedden, running the other Honda Civic Tourer, prepared by Team Dynamics.[1] Two podiums in the opening round sees Neal second in the driver's standings with 27 races to go.
Background
Edit
Neal is the son of Steve Neal, founder of Team Dynamics.[2] Neal began his motor racing career in 1988, having run in numerous Motorcross events.[2] Neal won the British Group N Championship in 1990 and 1991, alongside a 1990 win in the Willhire 24 Hour race at Snetterton.[2]
BTCC History
Edit
Matt Neal's BTCC career began in 1991, when he made his debut for Pyramid Racing at Silverstone.[2] Neal would appear twice more in 1991, later driving for BRR Racing at Oulton Park and Donington Park, although his best finish in the season would be the 13th he achieved at Silverstone.[2]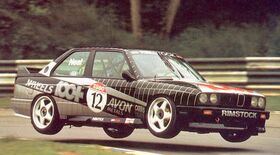 1992
saw Neal drive for his father's team,
Team Dynamics
, competing under the name "Rimstock Racing". Using the
BMW M3
that
Will Hoy
drove to the 1991 title, Neal clamied his first points in the BTCC, taking 8th place at
Brands Hatch
.
[2]
At the end of the season, damage to the car made it impossible for the team to repair, causing them to switch to a 318i for the final meeting at
Snetterton
.
[2]
Neal continued racing for Team Dynamics  in 1993, before switching to Team Mazda in 1994.[2] An unsuccessful part-season in which Neal only claimed a single point from four meetings, culminating in a barrel-roll at Silverstone which destroyed the car's shell, saw him return to his father's team in 1995.[2] Six full seasons with Team Dynamics followed this change, with the team running Ford Mondeos for two and a half years before switching to Nissan Primera GTs.[2]
Race Winner
Edit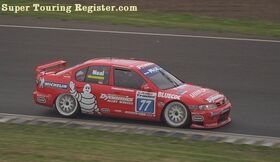 It was during this time that Neal achieved a feat for which Alan Gow (the sport's director) had set a reward of £250,000 (doubled from the previous years' prize of £125,000). Neal became the first Independent driver (ie lacking manufacturer support) to win a race in the
Super
Touring era, having taken the flag at Donington Park in
1999
.
[1]
Neal raced for a further season in the BTCC, winning again at Brands Hatch - but taking no additional prize money - before switching for a year in the European Touring Car Championship.
[2]
Neal returned to the BTCC in 2002, although for this year he opted to drive for Triple Eight Race Engineering, running under the name egg:sport.[2] A career best finish of third in the driver's standings was repeated a year later, with Neal returning to Team Dynamics for a third time.[2] 2004 would yield Neal a fifth place in the standings at the end of the season.[2]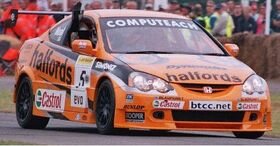 It would be the seasons of
2005
and
2006
that Neal would go into the history books for, however, as he took his first overall drivers title in 2005, before holding onto it in 2006.
[1]
This feat was made all the more impressive by the fact that Team Dynamics, unlike most Independent teams, had built the
Honda Integra Type-R
from a road car (rather than the conventional method of using ex-works cars).
[2]
The consistency that typified Neal's championship was carried over into 2006, when he again took the title.
[2]
Ironically, having already secured the championship, Neal was prevented from taking part in the final race of the season, with a suspension failure prior to the start, his first mechanical failure for two years.
[2]
Team Dynamics reluctantly dropped their champion Integra in 2007, as BTC regulations prevented it from being able to score points.[2] The team switched to Honda Civic Type-Rs instead.[2] A crash at Brands Hatch left him in hospital for a time, meaning he lost ground on the championship leaders which he could not recover.[2] The season finale saw Neal allow the two VX Racing Vauxhalls to pass him, before blocking Jason Plato, allowing Fabrizio Giovanardi to take the title.[2] It is thought that Neal did this because he had agreed to drive for VX Racing the following season.[2]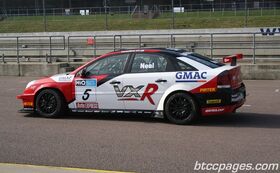 A two season spell with VX Racing did not result in another title for Neal, as team mate Giovanardi beat him on both occasions.
[2]
For the 2010 season, Neal returned to Team Dynamics for a fourth time, although with the team now receiving full factory support from
Honda
. A season long battle with Plato resulted in Neal finishing second in 2010's final standings, although he and long time team mate
Gordon Shedden
managed to win Team Dynamics (racing under the name Honda Racing) their first manufacturers title.
[2]
The Next Generation Touring Car era began in 2011, with Team Dynamics placing an NGTC engine into their trusted Civics. With the new unit, Neal took the 2011 title, before finishing second in 2012 behind team mate Shedden.[2] The fourth year, in his fourth spell, with Team Dynamics saw Neal take fourth in the championship in 2013, behind another Team Dynamics built car, run by Pirtek Racing.
BTCC Record
Edit
Below is a table showing Neal's BTCC record. The number after the car model indicate Neal's best finish at that meeting.
* Team Dynamics switched to the BMW 318i for the final round of the 1992 season.
** Team Dynamics switched to the Nissan Primera GT after problems half way through the 1997 season.
References
Edit
Image Origins:
Community content is available under
CC-BY-SA
unless otherwise noted.