Welch Motorsport
{{{image}}}
Team Information
Nationality
British
First Season
2011
Founder
Unknown
Team Principle
Unknown
Key People
Unknown
Driver(s)
Daniel Welch (No.12)
Ollie Jackson (No.48)
Car
Proton Persona
Sponsor(s)
STP
Sopp & Sopp
Team Stats
Previous Season Standings
10th
Races Entered
87[1]
Total Number of Wins
0
First Win
N/A
Total Number of Podiums
0
Total Fastest Laps
0
Number of Championships
0
Welch Motorsport
are a team in the
2014
British Touring Car Championship
, currently competing as
STP Racing with Sopp & Sopp
.
[1]
Current Season
Edit
Welch Motorsport are, for the first time in their history, running two cars in the championship, with two Proton Persona's built for the 2014 season.[1] Daniel Welch continues to run for his family team, while Ollie Jackson has been given the second car for the season, with Welch Motorsport hoping to develop the new cars as the season goes on.[1] 
Welch Motorsport was originally founded in 2007, so that Daniel Welch could race in the SEAT Leon Cup.[2] The team spent two seasons in the Cup, before entering the European version of the Cup from 2009, as well as supporting Welch in the Ginetta Championship.[2] In 2011, Welch Motorsport stepped up to the BTCC.[2]
Proton Progress
Edit
Welch Motorsport had a Proton Gen-2 built for the 2011 season, which complied fully to the newly announced NGTC regulations.[2] Welch was named as the team's driver, although the car would not be ready until after the summer break.[2] Welch claimed his (and the team's) first point at the penultimate race of the year at Silverstone by finishing tenth in the race.[2]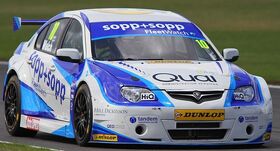 Sopp & Sopp brought money to the team for the
2012
season, with Welch Motorsport entering a
Proton Persona
for the full year.
[2]
The worst meeting of the year (at
Thruxton
when the driveshaft failed before the start of the first race) was followed by the team's best, when Welch claimed fourth in race two at
Oulton Park
(after a battle with
Matt Neal
that won him the HiQ Champagne Moment of the Year).
[1]
Welch Motorsport claimed 85 points through the year, finishing 12th in the final standings.
[2]
In
2013
, Welch Motorsport supported the entry of
David Nye
alongside Welch in their main car.
[2]
With (effectively) two cars, Welch Motorsport claimed tenth in the final standings at the end of the year.
[2]
For 2014, a second Proton was built, with Welch joined by Ollie Jackson for the season.[1]
Any information regarding the Team's major achievements, may be entered here.
Driver List
Edit
Below is a list of all the drivers that have raced for Welch Motorsport.
References
Edit
Images
Community content is available under
CC-BY-SA
unless otherwise noted.